POWER – MCC PANEL
MOTOR CONTROL CENTER
A Motor Control Center (MCC) is an assembly of one or more enclosed feeder sections having a common power bus bar and principally containing Motor Control units. Motor Control Centers are having several Motor Starters assembled in one common panel. A Motor Control Center can also include Variable Frequency Drives (VFD), Programmable Logic Controllers (PLC).
Motor Control Centers are used in the manufacturing industries where large numbers of electric motors employed for various process. Where very dusty or corrosive processes are used, the motor control center may be installed in a separate air-conditioned room, but often an MCC Panel will be installed on the factory floor adjacent to the machinery to be controlled.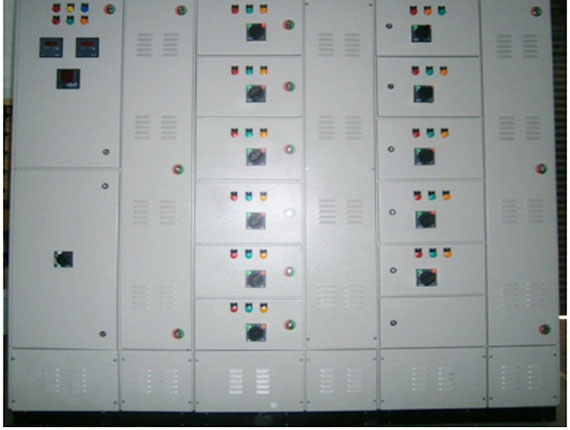 | | |
| --- | --- |
| Applications | Operation, Control & protection of distribution network with or without PLC Connectivity. |
| System | 3 Phase, 3 Wire (or) 4 Wire, 50Hz |
| Rated Current | Up to 4200 Amps |
| Operational Voltage | 110/230V & 415VAC |
| Rated Insulation | 1000V |
| Rated Service Voltage | 690V |
| Ambient Temperature | 45°C |
| Short Time Current | 50kA for 1Sec, 105KA peak |
| Degree of Protection | IP42-IP54 |
| Form of Separation | Up to 3B/4B |
| Type Tested for | Short Time Current withstand, Temperature Rise & Degree of Protection |
| Bus Bar System | Interleaved above 1600A |
| Bus Bar | Aluminium (or) Copper |
| Ref. Standard | IEC61439-12009, IS:8623 |
| Feeder Configuration | Fixed (or) Draw out type |
POWER – VARIABLE FREQUENCY DRIVE PANEL
VFD CONTROL PANELS
VFD Control Panels are designed to control the speed of electric motors. They are widely used in drilling, pumping and many other applications. The VFD panels are widely used in tube mills, paper mills, extruder plants, rolling Mills, cable industry etc., VFD Control Panels are designed to match variable speed requirements of a process units. We are manufacturing and supplying Schneider entire range of VFD's, which is designed as per the international standards. We can supply VFD Panels as per customer requirement for various applications. Being a Schneider System Integrator, we follow the standards, which Schneider is following worldwide.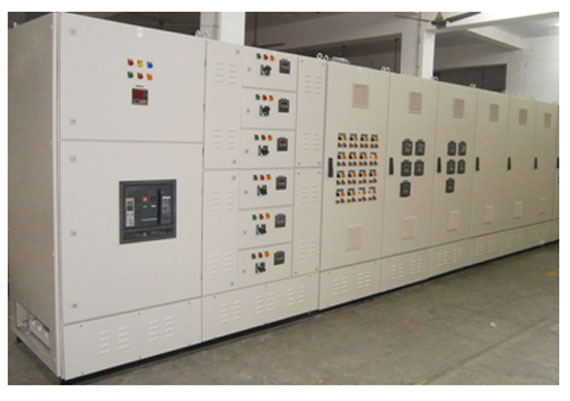 POWER - LT & HT SOLUTIONS
We are prominent Control Panel Board manufacturers, suppliers in South India. We are offering our product to our esteemed clients Spread all over India. Our product range is widely used for safe power distribution in different applications. While designing we use exceptional quality components for our products and our quality team thoroughly tests our products prior to launch.
We are a Certified "A" Grade Electrical contractor in Chennai taking up Design, Engineering, Manufacturing, Supply, Installation & commissioning of LT / HT Panels, APFC Panels, Feeder Pillar Panels, 11/33kV Transformer / Switch yard supply, erection & commissioning and associated works on turn-key basis.
The PCC PANEL manufactured by us are comes with the following features:
Available in draw out or non-draw out version
We also manufacture 11&33kV CONTROL & RELAY PANEL which are specifically made to control and monitor the electrical equipment's such as transformers, generators and circuit breakers. C&R Panel consist of fuses, switches, terminals, control and protection relays, earthling terminals and various essential components. We offer our panel's at most competitive price and with minimum lead time.
AUTOMATIC POWER FACTOR PANEL (APFC) Panels are mainly used for the improvement of Power Factor. Power Factor can be explained as ratio of active power to apparent power and it is a key factor in measuring electrical consumption. A dip in Power Factor can attract operational losses and a penalty from electricity board. APFC Panels are available in different current ratings to cater to distinct applications.
We also offer OUTDOOR TYPE PCVCB to our customers along with the other LT/HT panels as a part of our Turn-key solutions. Prior to delivery, this undergoes a high level test that is monitored by OEM's quality experts. These breakers are used for distribution of power in various industries.