Different type of panels supplied to Nuclear Power Corporation
Seismically Qualified Panels
Thermal Aging Tested Panels
IP-55 & IP-66 Type Tested Panels
Fuel Handling System
Air-Lock System
Fuel Transfer System
Chilled Water System Control Desk
Moderator Cover Gas System
Liquid Zone Control System
Annulus Gas System
Primary Circulation Pump Motor Control Panel
Argon Pressure Control Panel
Pool Water System
Low & Medium Level Liquid Disposal & Leak Deduction System
Infiltration Pump Control Panel
Fuel Pool Supply Air Fan VFD Panel.
Fuel Pool Supply Exhaust Fan VFD Panel
PLC Based Tube Cleaning System Panel
PLC Based Dryer System Panel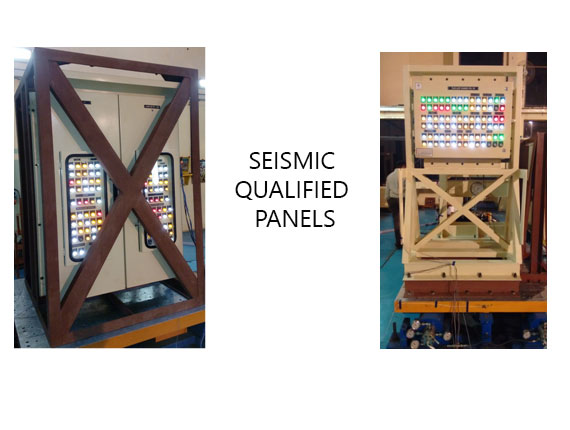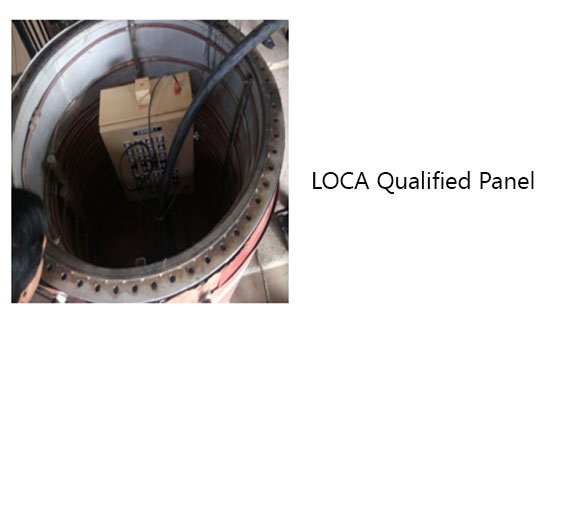 CONTROL PANEL FOR NUCLEAR POWER
Wall/column/pedestal mounted panels are designed up to a maximum height of 1.2m. If the panel height exceeds 1.2 m., then the panels shall be designed for free standing floor mounting type and we will ensure that the overall height of the panel does not exceed 2.2m.
Wall/column/pedestal mounted panels will have the following specifications:
| | |
| --- | --- |
| Material of Construction : | CRCA Sheet Steel conforming to IS-513-2008 |
| Protection : | Dust/Vermin proof providing degree of protection Better than IP-52 for indoor & IP-55 for outdoor Application |
| Sheet Thickness : | Main Body, 3.0mm, Doors 2.0mm |
| Structural Steel : | Wherever Structural steel / sections need to be used to provide required rigidity & firmness to the cabinet and also to make it suitable for seismic qualification by analysis. |
| Hinges & Locks : | The panels are provided with hinged door(s). Removable locking handle arrangement so that the same handle can be used to lock/unlock doors. |
| Door arrangement : | Wall/column mounted panels will be provided with front Doors & Floor Mounted panel will be supplied with Front & Rear doors. |
| Gaskets : | All doors, removable covers and plates will begasket all around with Viton gasket for radiation Areas & Neoprene gasket for Non-Radiation areas. |
| Gland Plate : | Panels/racks will be provided with Removable type Gland Plate (Cable Entry Plate) for top cable entry. |
| Base Channel : | Floor mounted panels shall be supplied with suitable base channels (ISMC) with adequate number and size of holes for anchoring to the floor so as to meet the seismic qualification. The necessary foundation bolts will also be supplied. |
| Mounting Bracket : | Wall/column mounted, panels, will be supplied with Brackets / channels for mounting on the wall/column. |
| Labels : | All the equipment's mounted on front side of the panel, as well as equipment mounted inside the panels will be provided with individual labels with equipment designation engraved. |