Village Transfer Chamber
The water distribution pipeline at the outlet of the ESR will extend till the water consumer cluster and for approx. 100 no's houses one VTC will be designed to control the water supply and capture the flow of water for billing and/or for any loss/leakage in pipeline. The VTC pipeline size up to 400mm will have pulse output mechanical turbine flow meter installed. In some locations where there is a requirement to deliver water at certain pressure, Pressure transmitters are also installed to monitor the same.
To collect the flow and pressure information a Data logger is installed at each VTC location. The data is collected and stored in the logger and uploaded at the frequency and time configured in the logger. In VTC locations where there is no power supply, the data loggers and Pressure transmitters are either powered using primary battery or through solar panels. The stored data shall be uploaded to the control room through SMS/GPRS.
This data is used by the control center to monitor cumulative flows and control valve operation and for billing.
CASE STUDY :
BASSI WSP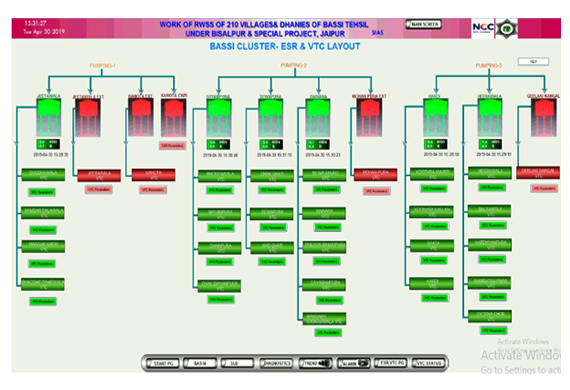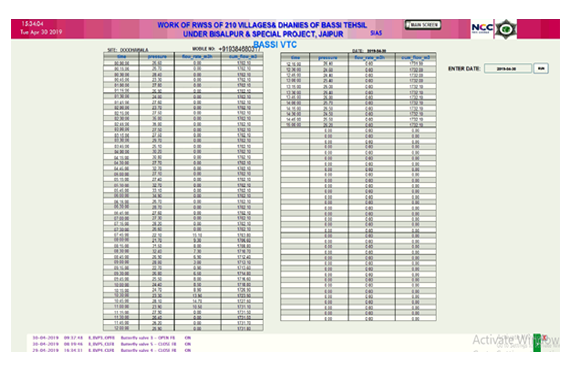 In Water supply project for BASSI-Rajasthan, scada graphic layout shows the distribution pipeline from pumping station to ESR & VTC. The Level, Flow, pressure data from the ESR and VTC received though SMS/EMAIL to the SCADA server. The data will be processed and sorted with latest time to display on the screen. The layout screen shows the latest value of parameters latest to 15mins. Another page in SCADA shows the list of all the 15 mins interval data for analysis. A process report with daily, monthly and consolidated formats are provided in the SCADA for generation, printing and storage.
Ultrasonic level transmitter, Woltman turbine type flow meter, Blind type pressure transmitter are used for sensing the respective parameters. Level and pressure transmitter provide 4-20mA and Flow sensor provided pulse for every 100 liters(configurable)